1. Electrolyte polishing.
Electrolytic polishing (Electropolishing, short case: EP), is to be thrown work piece for the anode, insoluble metal for cathode, the poles are immersed in the electrolytic tank at the same time, through the DC ionization reaction to produce selective anode dissolution, so as to achieve the surface of the work piece to remove micro burrs, reduce surface roughness, enhance the luster effect, enhance corrosion resistance, improve antibacterial resistance.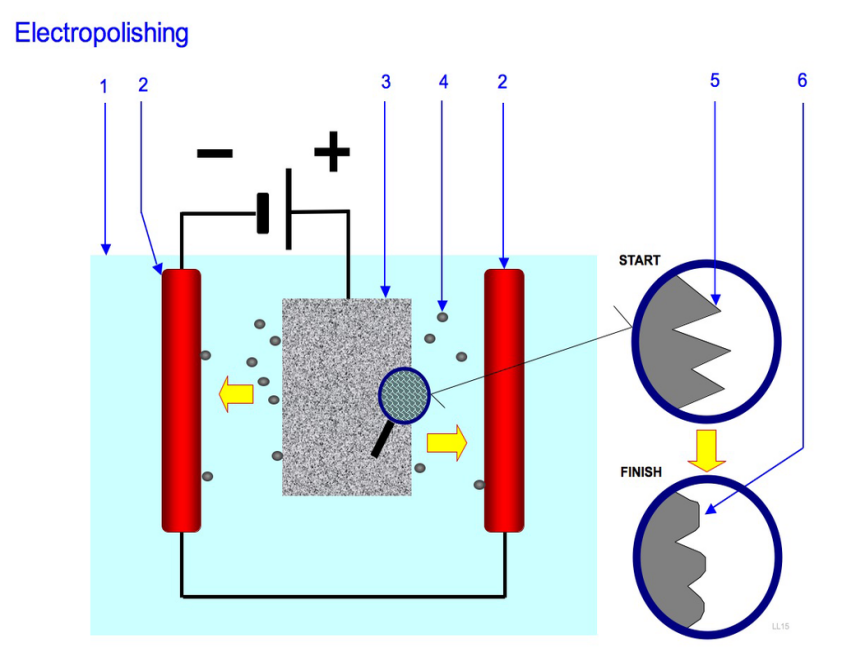 1. Electrolyte
2. Cathode rod

3. Anode (ECM parts)

4. Metal ions

5. Workpiece surface before electrolysis

6. Workpiece surface after electrolysis
The application of electropolishing tube is mainly in electronic semiconductor, medicine, fine chemical industry, laboratory, food and other fields. With the improvement of equipment, process and technical parameters, the requirements for the inner wall of steel pipe are higher and higher, which will be widely used
Advantages of electropolishing:

① There will be no deterioration layer caused by mechanical energy or thermal energy caused by processing.

② The surface will form a smooth surface which is not easy to stain

③ Electropolishing is a selective method to dissolve iron first, so as to further improve the corrosivity.