Electrolytic polishing (Electropolishing, short case: EP), is to be thrown work piece for the anode, insoluble metal for cathode, the poles are immersed in the electrolytic tank at the same time, through the DC ionization reaction to produce selective anode dissolution, so as to achieve the surface of the work piece to remove micro burrs, reduce surface roughness, enhance the luster effect, enhance corrosion resistance, improve antibacterial resistance.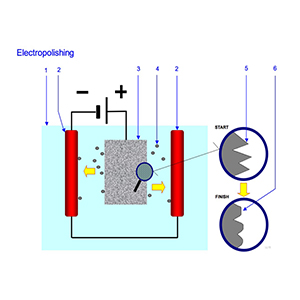 1. Electrolyte.
2. Cathode is great.

3. Anode (electrolyte)

4. Metal ions.

5. The surface of the pre-electrolyte work piece.

6. The surface of the post-electrolyte work piece.

Electrolyte polishing tube applications are mainly electronic semiconductors, medicine, fine chemicals, laboratories, food and other fields. With the improvement of equipment, technology and technical parameters, the requirements for the inner wall of steel pipes are getting higher and higher, and the application will be very extensive.

Advantages of electrolyte polishing:

(1) No layer of desalination caused by mechanical or thermal energy caused by processing will occur.

(2) The surface forms a smooth surface that is not easily stained.

(3) Electrolyzing polishing is a selective pre-dissolved iron component, thus further increasing corrosion.

Specifications: 1/8"-2" ( . . .welded tube.......)
Material: TP304L, TP316L/SUS316L.

Smelting processes:
AOD, VOD, AOD+ESR, VOD/AOD+VAR, VIM+VAR,,Delivery status:EP, MP+EP
Implementation standards: ASTM A269/632, JIS G3459, and customer requirements.

Features:

l The use of pure stainless steel materials;

l The inner wall is extremely low in roughness and has a controllable range ofRa5 μin to Ra10μin;
l Large-scale production, raw material selection, process optimization, quality control and other factors to ensure quality stability, product consistency, improve product pass rate.

l Fast delivery, high quality and low price.